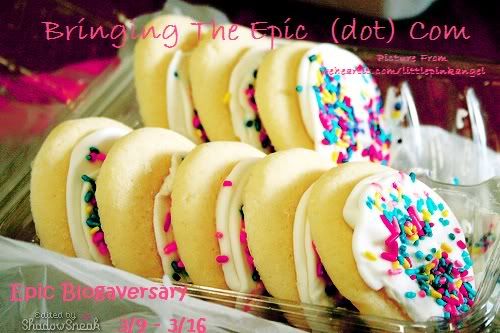 Well guys, we've done it! I have officially been running a blog for one year! And consistantly, too! I couldn't do it without the support of the authors, bloggers and readers! In order to celebrate to the fullest I've decided to host a giveaway! Three of them, actually!!
Grab a button and help spread the word!!
[IMG]http://i57.photobucket.com/albums/g225/lynn_marie03/cookies.jpg[/IMG]
My blogging past is well documented with the people that have consistantly been there for me and have inspired me. You all know by now that Makeshift Jen has been one of my best and longest friends, she's the whole reason I started this site! But there are three other people that have influenced me and made my life better every single day.
In the spirit of epic namings, because honestly, everything is much more epic when it's named. I've decided to host three giveaways and each one of them is dedicated to a person that has helped and inspired me! You know when you call Jimmy Johns that the Bootlegger (Number 14 for short) is the best. You know if you have an old english homestead you need to name it, Pemberly, Wuthering Heights, etc. And you know that for something to be epic, it must be named as such. These books and the bloggers who have inspired their groupings are nothing short of epic!
In alphabetical order, I give you:
The Ginger
Everyone's favorite TGIF and Tune In Tuesday Meme queen, the woman who introduced us to the glory that is Safety Suit and so many wonderful titles!
By entering in The Ginger giveaway, you are entering for your chance to win the book packaging of:
The Disenchantments (ARC) by Nina LaCour
Sloppy Firsts by Megan McCafferty
*Signed Copy* The Summer I Turned Pretty by Jenny Hahn
a Rafflecopter giveaway
The Heidi
My signing bestie, Co-Eater of Clyde the rice krispy, Librarian of the Year and over-all most amazing friend you'll find. She's been with me for some of the best times of my life! And she never judges! Even when Libba Bray steps on stage...and I cry...and then fangirl for three hours...Or when she helped get me an arc of The Springsweet...and I cried....and slept with the book...haha! SO many good times with this wonderful woman!!
By entering in The Heidi giveaway, you are entering for your chance to win the book package of:
Cinder ARC by Marissa Meyer
A Great & Terrible Beauty by Libba Bray
*Signed Copy* Nightshade by Andrea Cremer
a Rafflecopter giveaway
The Jen
My co-author, wrestling fan, critique partner, long lost sister, personal joke queen, the one I rant to when I can't BELIEVE she just said that (!) and general keeper of my hopes and dreams. You know, nbd. :) From excellent reading recommendations, rolling down some wicked hills in St.Louis and exploring new writing styles - I wouldn't be half the person - or writer - I am without a friend like Jen!
By entering in The Jen giveaway, you are entering for your chance to win the book package of:
Of Poseidon ARC by Anna Banks
It's Always Been You by Victoria Dahl
Bad Boys Do by Victoria Dahl
a Rafflecopter giveaway
The only rules I have for this giveaway are these:
1 - You must be Epic.
2- You must have an address the post office can deliver to.
3- You must follow this blog!
THAT'S IT PEEPS! OH and... 4- You may enter for as many of the giveaways as you'd like, but there will be a different winner selected for EACH giveaway! Spread the love, my friends, three separate yet epic winners!!